Bappi Lahiri was born in Calcutta, West Bengal in 1952 into a family with a rich tradition in classical music.
His father, Aparesh Lahiri was a famous Bengali singer and his mother, Bansari Lahiri was a musician and a singer who was well-versed in classical music and Shyama Sangeet. His parents trained him in every aspect of music. He was their only child. At a very early age, he had the ambition to become famous, not only nationally, but internationally. He began to play the tabla at the tender age of three. Even at that tender age, Bappi showed signs of greatness as he played the tabla with the proficiency of an experienced professional. Bappi Lahiri is married and has two children. Bappi Lahiri has shared his love for music with his entire family. His wife is Chitrani comes from a family of singers, his daughter Rema is also an excellent singer, and son Bappa Lahiri has inherited his father's keen sense of music and joined the Hindi film industry as a music director.

Bappi has his own unmatched personal style. He is the perfect blend of East and West, and his wardrobe ranges from the traditional Indian kurta and sherwani to the western sweatshirts and blazers. He is fond of wearing pieces of jewelry that represent significant symbols in his life. Bappi is famous throughout India for his trademark gold ornaments and sunglasses.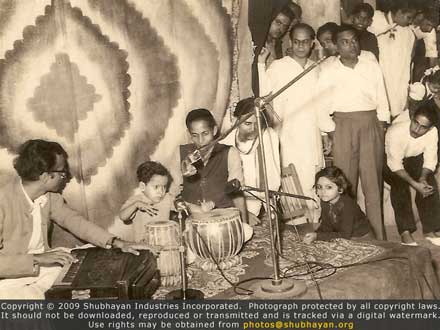 ... he began his career as a music director at the young age of 19.
He received his first opportunity in a Bengali film, Daadu (1972) and the first Hindi film for which he composed music was Nanha Shikari (1973). The film which established him in Bollywood was Tahir Husain's Hindi film, Zakhmee (1975), for which he composed music and doubled as a playback singer. This film brought him to the heights of fame and brought forth a new era in the Hindi film industry. Bappi rose from strength to strength, and the music for his subsequent films Chalte Chalte and Surakshaa were tremendously popular, placing Bappi on the pedestal of stardom, making him the youngest music director of his time to have attained such intense success in such a short duration.

Bappi Lahiri was the pioneer of disco beats in India and his refreshing, vibrant, and rhythmic music had the entire nation dancing for decades. Bappi Lahiri is widely recognized throughout India as the sole originator of the disco beat in India. He is widely known as the "Disco King" in India, even today. Bappi Lahiri was the most popular music director in the 1980s due to his famous compositions for films such as Disco Dancer, which have left a lasting imprint in the minds of all those who heard the music. Bappi is famous for his constant desire to reinvent himself and face the challenge to keep up with the rapidly changing preferences of current generations. He is the complete entertainer and superstar with his multiple talents as a singer, music director, and percussionist!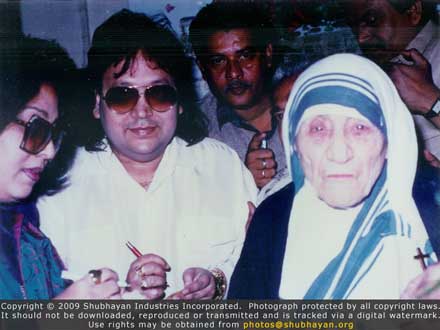 Bappi has been known to work with the singing legends of the Hindi music industry.
He has been known to sing duets with Mohammed Rafi and Kishore Kumar. He has also worked with renowned singers like Lata Mangeshkar and Asha Bhosle. Vijay Benedict and Sharon Prabhakar were launched into the Bollywood music industry by Bappi. He also paved the path to fame for Alisha Chinai and Usha Uthup through his compositions. Bappi Lahiri's reign over the Hindi music industry continued throughout the 1990s when provided music for the Prakash Mehra produced 'Dalal' starring Mithun Chakraborty. The song 'Gutur Gutur' from the film was a big hit.

Even in the 2000s, Bappi Lahiri's reign and popularity with the masses remains as strong as ever. His album 'Bappi Magic - The Asli Baap Mix', featuring popular numbers such as 'Gori Hai Kalaiyan' and 'Jimmy Jimmy' was released in 2004 to great fanfare and attained great success and following. The following year he composed the background score for the Jahnu Barua film, 'Maine Gandhi Ko Nahin Maara'.

Bappi lent his voice to another composer for the first time with the song "Bombai Nagariya" in 2006 which he sang for Vishal-Shekhar for the movie Taxi Number 9211, which went on to become an instant success. Subsequently, he lent his voice for the title track of the Mani Ratnam film 'Guru', in which the music has been composed by A. R. Rahman, which also went on to become a super hit.

Having conquered the world of big screen Hindi films, Bappi turned his attention to reality shows on television. In 2006, he appeared on the popular television show 'Sa Re Ga Ma Pa L'il Champs' on Zee TV as co-judge with singers Alka Yagnik and Abhijeet. Bappi was also one of the celebrated judges for Zee TV's 'Sa Re Ga Ma Pa Challenge 2007,' along with fellow music composers: Himesh Reshammiya, Ismail Darbar, and Vishal-Shekhar. Bappi was also a judge for Sony Entertainment Television's 'K For Kishore' reality show that sought to find the 'heir apparent' to Kishore Kumar. All of these reality shows gained tremendous amount of worldwide popularity.

In late 2016, Lahiri voiced the character of Tamatoa in the Hindi-dubbed version of Disney's 3D computer-animated fantasy adventure film Moana; he also composed and sang "Shona" (Gold), the Hindi version of "Shiny". This was his first time dubbing for an animated character, and he also appeared in Ramratan song "Yeh Hai Dance Bar". Bappi won the Filmfare Lifetime Achievement Award at 63rd Filmfare Awards.

Currently, Bappi Lahiri is transcending the barriers between the East and West and is striving to make history once more with his new album: My Love. Over the decades and through years of well deserved fame and accolades, Bappi Lahiri remains the undisputed Disco King of India, and one of the most amiable celebrities in the Hindi film industry today.

Bappi Lahiri, the original Disco King of Indian music entered Hollywood by singing a song for the dubbed version of Moana, the animated Disney hit. The song is titled "Shona" which means gold, something Bappi da openly displays his love for.

Besides the track, he will also lend his voice for the character of Tamatoa, a giant crab who has a penchant for hoarding shiny treasures. Bappi mentioned the "it is a great pleasure to associate with this film. I am always looking forward to new things. This is the first time I'm dubbing for an animated character, and Tamatoa is very similar to me. I hope people will enjoy this avatar of mine, it is truly a golden memory."
Newcomers
Bappi Lahiri is also known to be accredited with providing newcomers with opportunities in the Hindi film industry. Bappi was the secret benefactor that provided superstar Akshay Kumar with his first opportunity as a hero in the movie Khiladi. Bappi Lahiri is admired and respected by several prominent members of the film fraternity, and he holds close ties with superstars like Hrithik Roshan and Salman Khan. On the request of superstar Shah Rukh Khan, Bappi Lahiri also provided an outstanding musical score for the Kolkata Knight Riders team in the Indian Premier League, 2008.
Contact Me